Sometimes, eating the recommended anti-inflammatory foods on the Mediterranean Diet takes a little creative thinking.
The Mediterranean Diet is a way of eating shown to reduce inflammation, improve blood sugars, and prevent or manage chronic diseases.
Try some Mediterranean Diet smoothies to reap the health benefits in a unique and convenient way!
Smoothies are my go-to on busy days for everyone in our family, from new eaters to kids and adults.
Smoothies can be served at any meal. Smoothies as the dinner entree provide a nutritious and filling option. They are also helpful when you are crunched for time or haven't been to the grocery store.
Mediterranean Diet Smoothies are the perfect blend (food pun!) of a recommended way of eating with a practical meal (smoothies).
This article will show you how to use key foods on the Mediterranean Diet to make filling, anti-inflammatory smoothies for everyone in your house.
Understanding the Mediterranean Diet
Mediterranean Diet Features
This way of eating is very flexible with no strict rules and does not require Mediterranean cuisine. Any cuisine can fit the Mediterranean Diet. The key features include:
Choosing seasonal and local foods (closer to their peak nutrients)
Enjoying the social aspect of meal-time (put down those devices)
Prioritizing vegetables and fruits
Opting for whole-grain bread and cereals
Regularly add in legumes or beans
Choose healthy fats like nuts, nut butter, seeds, and olive oil
Select unsweetened and fermented dairy products
A moderate amount of fish, poultry, and eggs, with red meat once a week
Benefits of the Mediterranean Diet
Type 2 Diabetes
A large review article in 2020, including over 100,000 adults, studied the effect of the Mediterranean Diet on the prevalence or better control of type 2 diabetes.
Individuals with greater adherence (or following) to a Mediterranean Diet had lower rates of type 2 diabetes. Individuals with high adherence to the key diet features showed a risk reduction of about 20% for developing type 2 diabetes.
Additionally, following the Mediterranean Diet helps control blood sugar levels by reducing hemoglobin A1C, lowering fasting blood sugar levels, and decreasing insulin resistance.
Hemoglobin A1C is a laboratory value that measures a person's average blood sugar level over the past three months. Higher levels indicated poor blood sugar control.
Heart Health
Greater adherence to the Mediterranean Diet is associated with better heart health (reductions of heart disease, stroke, and heart disease) and a reduced incidence of major heart events by 30%.
Mental Health
Emerging research on improved mental health (specifically depression and anxiety) and following the Mediterranean diet is promising.
Cognitive function is improved (and a lower risk of Alzheimer's disease) in older adults following an anti-inflammatory diet, including the Mediterranean Diet.

Reduces Chronic Inflammation
Finally, following the Mediterranean diet reduces inflammation. Chronic inflammation worsens any illness or chronic condition. You can read more about inflammation and anti-inflammatory eating in other articles I've written.
Smoothies the Mediterranean Diet Way
Smoothies aren't a first thought when following the Mediterranean Diet, but that should change. Mediterranean Diet breakfast (or any meal) smoothies can help you pack in anti-inflammatory foods.
Unlike juice, smoothies maintain all the nutrients and fiber when blended. Juice is strained, and most of the fiber is removed along with a small amount of nutrients.
Smoothies are a fast and convenient way to eat several food groups and nutrients. Many people like smoothies to eat their less favorable foods. Fruit and other flavors can mask the offending taste (perhaps spinach or leafy greens).
Smoothies reduce cooking time; even novice cooks can quickly learn to blend foods for a healthy meal or snack.
Smoothies are versatile for accommodating food allergies and intolerances. Choose different components for a filling and nutritious blend of anti-inflammatory foods. For example, almond or pea protein milk can be used instead of cow's milk or yogurt.
Ingredients for a Mediterranean Diet Smoothie
Many smoothie recipes lack protein and fat, which helps keep you full for several hours. Smoothies often contain fruit, juice, water, or almond milk (which is low in protein and fat).
The same combination for a meal applies to a smoothie. Choose fiber-rich fruits and vegetables, some healthy fat, whole-grain carbohydrates, and a protein source to stay full and energized until the next meal.
For a Mediterranean Diet, the priority is vegetables, fruits, healthy fats, beans, and unsweetened or fermented dairy like yogurt or kefir. Whole grains like oats can be added to smoothies as well.
You can add spices like cinnamon, vanilla, or unsweetened cocoa powder. If needed, you can add a little sweetener using dates or honey. Often, the fruit and the dairy provide natural sweetness.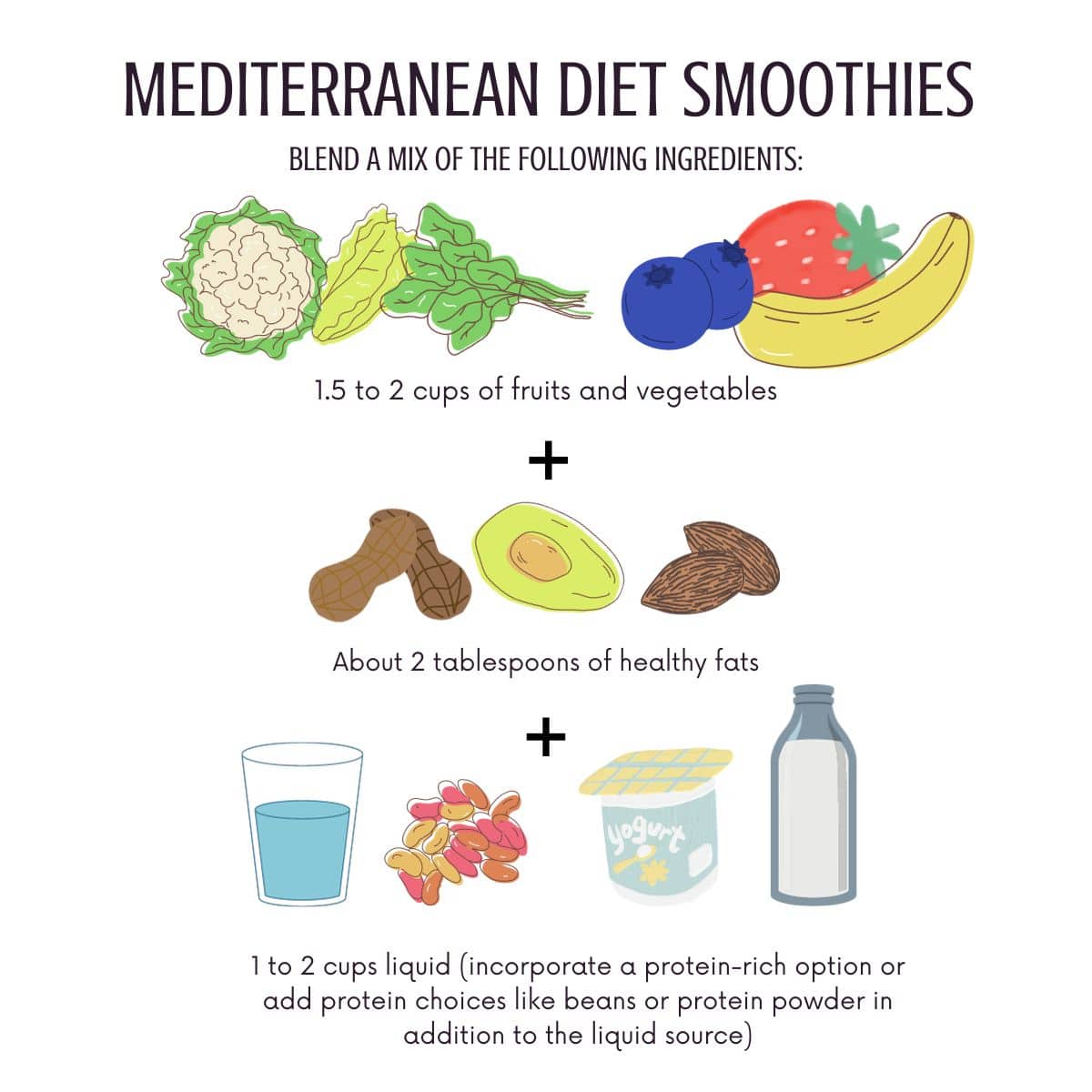 Mediterranean Diet Smoothie Recipes
Here are 4 Mediterranean Diet smoothie recipes that follow the basic recipe method above.
This simple, naturally sweetened five-ingredient smoothie contains protein (unsweetened kefir and peanut butter) and healthy fats (ground flax seed and peanut butter).
This gateway healthy smoothie can help familiarize those new to unsweetened smoothies. While this recipe doesn't contain vegetables, you could easily blend some frozen riced cauliflower or spinach leaves as you get more adventurous.
This meal replacement smoothie provides 465 calories, 9 g of fiber, and 22 g of protein. There is no added sugar, but it is naturally sweet from the banana and unsweetened kefir. Unsweetened cocoa powder contains anti-inflammatory flavonoids, iron, potassium, and fiber.
I love that this smoothie has anti-inflammatory foods from the Mediterranean Diet, like spinach, berries, nut butter, oats, and chia seeds.
The Lean Green Bean is a mom-dietitian with practical and tasty recipes to boost nutrient intake for families and children.
This recipe also gives the meal prep tip to blend water and freeze spinach into ice cubes. Freezing spinach into cubes reduces food waste, saves money, and helps you to get more anti-inflammatory foods daily. You could use the spinach cubes in soup or casseroles.
Using black beans in a smoothie is a great way to boost fiber, vitamins, and mineral intake. I keep it simple and save ½ cup of black beans from a different recipe earlier in the week. This recipe provides 276 calories, 12 g of fiber, and 11 g of protein.
Beans are a superfood and meet the criteria for a magical "fruit." They are packed with plant-based protein, antioxidants, and fiber. These features help you stay full longer and are slowly digested, leading to an improved blood sugar response.
Black beans and other legumes help prevent and manage diseases like type 2 diabetes and heart disease.
My other favorite way to include black beans is in healthier baked goods like gluten-free, high-fiber, and low-sugar Black Bean Muffins. I have served these muffins for the past five years to over 100 people with no comment except, "Can I please have the recipe?!" No one knows they are made with beans!
The Real Food Dietitians share real-food flavorful recipes with a short ingredient list. Cooking with many ingredients can be difficult, time-consuming, and unrealistic for everyday eating.
They create recipes high in fiber, protein, and nutrients because they use real foods. Real foods are a key component of the Mediterranean Diet.
This Green Smoothie serves two snack-sized or kid smoothies or one meal smoothie for an adult. It provides 430 calories, 14 g of fiber, and 26 g of protein for the whole recipe.
You can pick the fruit type paired with avocado, spinach, or other greens, unsweetened milk of choice, and protein powder to keep you full longer.
Tips for Incorporating Smoothies into Weekly Routine
Smoothies aren't just for breakfast. Smoothies are helpful and quick options for any meal or snack. Just be sure to include the filling Mediterranea Diet-inspired ingredients listed above.
Use frozen fruit and vegetables for a fall-back healthy meal option even when you have little time or no fresh groceries.
Most smoothie ingredients can be pantry items (like peanut butter, flax seed, or beans), have a longer shelf life (unsweetened yogurt), or stay in the freezer (fruits and vegetables).
Use smoothies to sneak in more vegetables, beans, or fruit on rushed days.
If you have some leftover smoothie, turn it into homemade popsicles or save it in the refrigerator for the next meal or snack. You may have to blend some ice with them for your preferred consistency.
Takeaways
Try some Mediterranean Diet smoothies to incorporate more anti-inflammatory foods into your weekly diet.
Mediterranean Diet-inspired smoothies are a quick, practical, and tasty way to get three or more anti-inflammatory foods into one meal.
They can help pickier eaters eat some less favorable foods since the fruit and other flavors mask vegetables or beans.
You can blend a nutritious and filling smoothie in no time at all.
Read more about how anti-inflammatory diets can help reduce inflammation and benefit people of all ages and health conditions.
Or grab my free, detailed printable anti-inflammatory foods list (PDF) to make the anti-inflammatory diet work for you and get inspired by more foods you could blend into your smoothie.
Let's get UNstuck and stay UNstuck!