Are you struggling to eat lunch as a teacher?
Have you vowed every August to bring (and eat) your lunch?
It sounds so simple. In reality, there are so many things to do and so little time.
Why should you prioritize eating lunch? What foods should you pack?
This article will explain the health benefits of eating lunch and inspire you with simple and healthy options.
Let's jump in!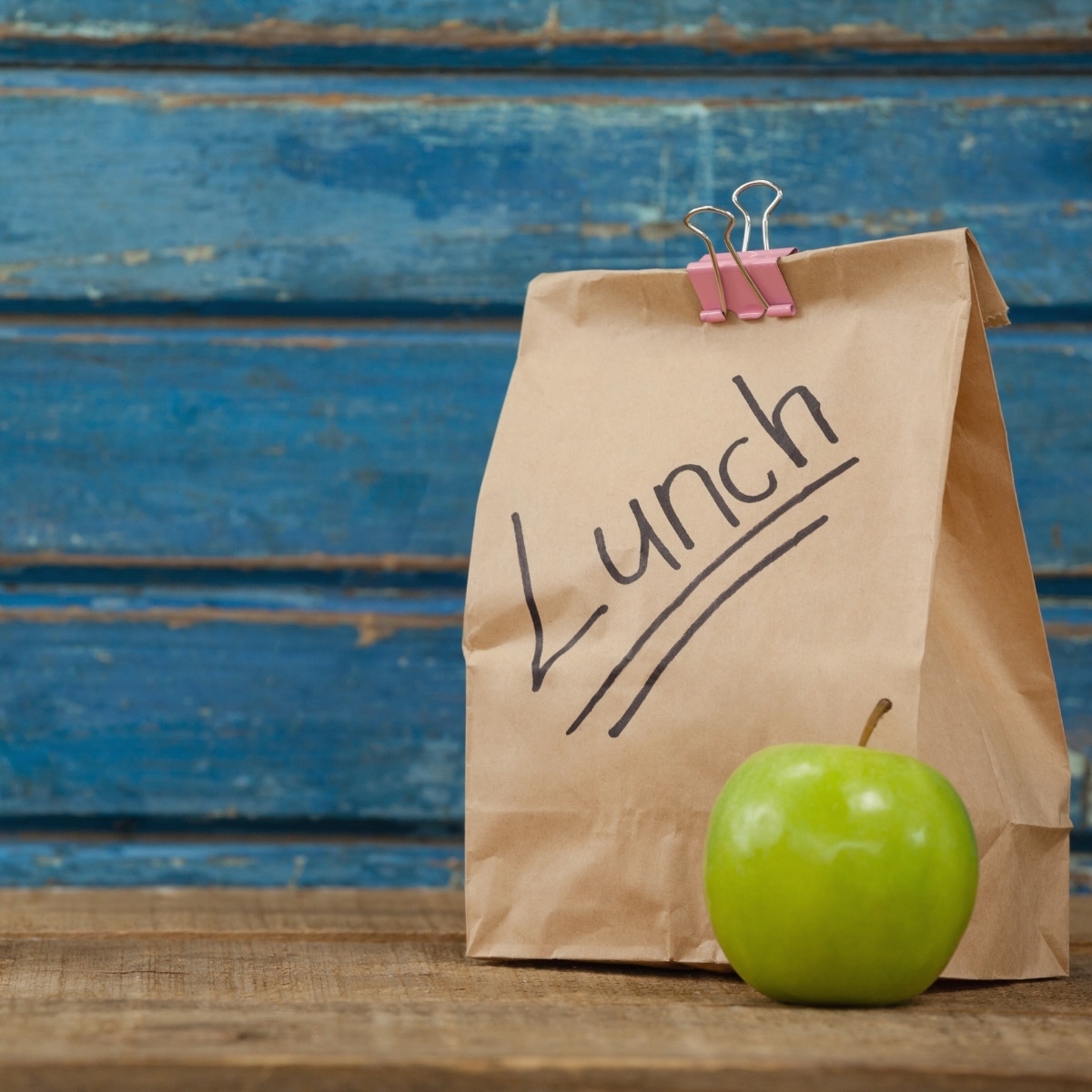 Benefits of Eating Lunch as a Teacher
Whether you teach preschoolers, teenagers, college students, or homeschool children of various ages, eating lunch is a priority for your health and ability to teach well. Here are four motivating reasons to incorporate lunch.
1. Ensures You Get Essential Nutrients
The 2020-2025 Dietary Guidelines for Americans recommend eating 1.5 to 2 cups of fruit daily and 2 to 3 cups of vegetables daily. Fruits and vegetables contain vitamins, minerals, and antioxidants to boost your immune system and prevent chronic diseases like heart disease and diabetes.
Yet, only about 10% of Americans meet the recommended daily amounts for fruit and vegetables. Skipping meals eliminates an opportunity to fuel your body for optimal performance. As my 6-year-old says, "You need some good gas for your car to run fast!"
2. Reduces Unhealthy Eating
Eating regularly with a proper mix of foods also reduces unhealthy eating. Glucose or blood sugar levels signal to your brain that you need food. When those levels drop, research shows that it drives you to eat high-sugar or high-fat foods.
Choosing meals with protein, fiber (fruits and vegetables), and healthy fats helps stabilize glucose levels and keeps you full for several hours.
3. Healthier Immune System
What teacher can't benefit from a stronger immune system? Incorporating anti-inflammatory foods into your lunch will help support your immune system.
Eating fruits and vegetables can enhance your immune system. Specifically, citrus fruits, all berries, apples, broccoli, green leafy vegetables, peppers, garlic, and beans contain vitamins and compounds that protect against viruses like the flu, common cold, and rotavirus (stomach bug).
4. Boosts Energy Levels and Helps with Weight Management
Studies observing lunch timing found that women eating lunch after 3 p.m. lost less weight than early lunch eaters (before 3 p.m.) despite similar calorie amounts, nutrients, and age.
Additionally, individuals eating lunch by 1 p.m. compared to late eaters had better glucose levels, improved metabolism, and energy usage. Try getting the fuel during the day when your body is using it!
Tips for Packing a Lunch: What Should I Eat as a Teacher?
Now that you know why you should eat lunch, here are some tips for how to pack a balanced, healthy lunch.
Use This Table to Build Your Healthy Lunch
Keep it simple, and choose foods from each food group for a nutrient-rich, energizing lunch that keeps you full until the last student leaves.
11 Lunches for Busy Teachers
Choose options that are realistic for the busy workweek. The ideas below fall into four groups of lunch types to help you eat lunch the whole school year. The main dish ideas below usually provide protein, fiber-rich carbohydrates, and healthy fat.
Cold Lunch (when there is no microwave or time)
Healthy Chicken Salad on whole-wheat bread paired with raw veggies and a piece of fruit (apple, pear, small banana).
You can eat this high-protein and fiber Chickpea Salad by itself and stay full all afternoon. No side food items are necessary.
Making Greek Pasta Salad with chickpea pasta boosts protein and fiber. Depending on your appetite, you may need to add a side of fruit or Greek yogurt to balance out the meal.
Multi-Tasking Lunch (can be eaten with one hand)
Roll-Ups: Choose a high-fiber tortilla or wrap, and put hummus, meat, or cheese with sliced veggies or spinach inside with a little of your favorite dressing. Add some fruit and nuts on the side for an easy-to-eat lunch.
DIY Lunchable: Take food from each group above and make your own healthier and more affordable version. For one variation, try hard-boiled eggs, hummus, whole-grain crackers, strawberries, and peppers.
Meal Prepped Lunch (made ahead on the weekend)
Pair 2 to 3 Energy Bites with raw fruit and vegetables for a complete lunch. You can store these gluten-free energy bites in the freezer for up to 3 months. Ours never last that long.
This Asian Chicken Rice Bowl is an easy, healthy option with four servings. Using a rotisserie chicken eliminates any cooking time. Mix the ingredients, put them into containers, and you are ready.
Choose leftovers like Beef and Broccoli over Rice from the night before for an easy one-container lunch. I bump up the veggies by doubling or tripling the amount of broccoli. Leftovers can reduce meal prep and ensure you have 1 to 3 lunches weekly.
Chicken Tortilla Soup is a great warm lunch option. This recipe contains chicken, black beans, avocadoes, tomatoes, and corn. You can make a large batch and freeze individual portions for a quick freezer option.
Pre-made (healthy options to buy for when you're overwhelmed)
Healthy Choice Classic Power Bowls with berries on the side. I like the classic bowls due to their vegetables, high-fiber grains, and protein content. Keeping a frozen meal in the freezer can save you from fast food or skipping lunch.
Go Macro MacroBar with banana and raw veggies. These bars are gluten-, dairy-free, and soy-free, with some peanut-free options. These shelf-stable bars can hang in your desk or bag for a quick backup.
Takeaways
Teachers (along with everyone else) can improve their health by eating a balanced lunch.
Adding fruits and vegetables to lunch ensures you get essential nutrients and support your immune system.
Research shows that eating lunch boosts energy levels, reduces unhealthy eating, and helps maintain weight.
Choose a protein, a high-fiber carbohydrate, fruits, and vegetables with some healthy fat to optimize the benefits of eating lunch.
Try some of these healthy lunch ideas this fall semester.
Check out some other articles about making practical, healthy lifestyle changes. Let's get UNstuck and stay UNstuck.