Are you trying to incorporate a variety of anti-inflammatory foods?
But you feel tired and overwhelmed when dinner comes around each day.
Do you need a tool to simplify your meal planning?
This article will list anti-inflammatory ingredients, inflammatory ingredients to avoid, a simple meal-planning tool, and seven anti-inflammatory dinner recipes created by Registered Dietitians.
Let's jump in!
Benefits of Anti-Inflammatory Dinners
The USDA reports that dinner provides Americans with the most calories (or energy) and is consumed more often than breakfast or lunch.
Including anti-inflammatory foods at dinner is an excellent opportunity to boost your overall diet and reduce chronic inflammation.
Dinner is most often eaten with other people, having the potential to impact the diets of everyone.
Anti-inflammatory diets help reduce chronic inflammation in the body. In another post, I discuss the benefits of an anti-inflammatory diet for all ages and health conditions.
Overall, extensive research repeatedly confirms that what you eat matters. Diet alone does not prevent a health condition, but foods can slow the progression or help you manage the side effects of those conditions.
Some foods increase inflammation, while others reduce inflammation.
Anti-Inflammatory Ingredients
Here are some anti-inflammatory foods from my free printable anti-inflammatory diet food lists and research studies. You might be surprised that you are already preparing meals with some of these foods!
Tomatoes – including tomato juice, tomato sauce, tomato paste, salsa
Leafy greens – kale, spinach, lettuce (iceberg, head, romaine, or leaf), parsley
Cruciferous vegetables – broccoli, Brussels sprouts, cabbage, cauliflower, watercress
Deep Yellow/Orange vegetables and fruit – squash, carrots, pumpkin, sweet potatoes, peaches, cantaloupe, figs
Apples and berries – apples, pears, strawberries, blueberries, raspberries, cherries
Legumes – string beans, peas, lima beans, lentils, chickpeas (garbanzo beans), black beans, kidney beans
Spices – turmeric, ginger, garlic, onion, pepper, thyme, oregano, rosemary, saffron
Poultry – skinless chicken or turkey
Fish – tuna fish and salmon
Dairy – unsweetened yogurt or kefir, lower fat milk (skim and 1%)
Nuts – almond, peanuts, walnuts, pistachios, Brazil nuts, pecans
Whole grains – oatmeal, whole-wheat bread, brown rice, quinoa,
Oils – olive oil, avocado oil
Inflammatory Ingredients to Avoid
These foods increase inflammation in the body. As a registered dietitian nutritionist, I try to eat more anti-inflammatory foods than inflammatory foods.
Think about your intake over the past week instead of a single meal for a balanced and realistic approach.
Eliminating inflammatory foods entirely may be too restrictive, unrealistic, and just not enjoyable.
Processed meats – bacon, beef or pork hotdogs, chicken or turkey hot dogs, salami, bologna, other processed meats
Low-quality red meat – hamburger, beef, pork, lamb, liver, gizzards, and other organ meats.
Added sugar – sugar-sweetened drinks and foods, candy, ice cream, desserts
Refined grains – low-fiber bread, rolls, cornbread, white rice, pasta, crackers, tortillas (*low-fiber is less than 2.5 g of fiber per serving)
Fried starchy foods – french fries and potato chips, bread and fried meat or vegetables
Oils and fats – mayonnaise, margarine, vegetable oil, excessive butter
Anti-Inflammatory Meal Planning Tool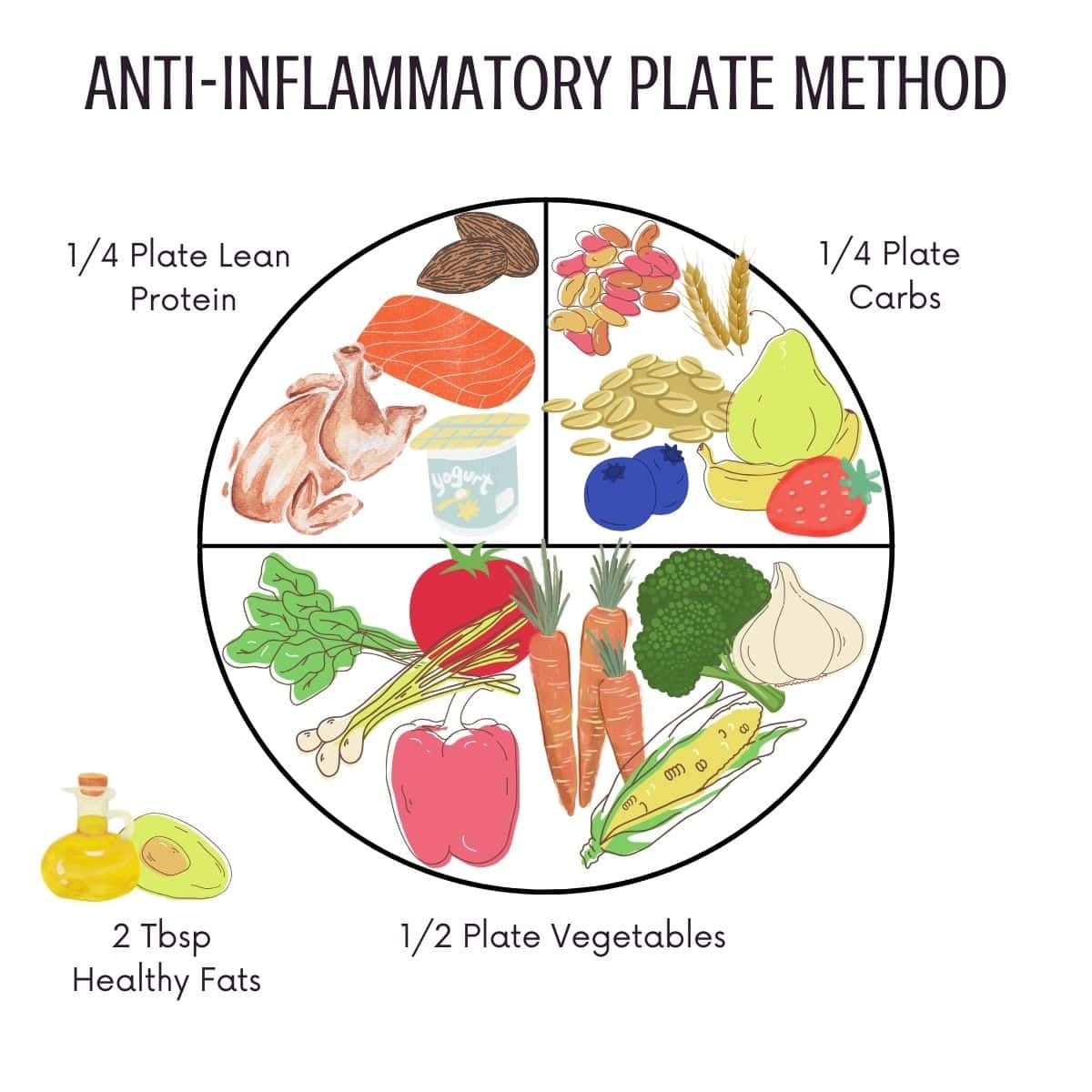 This meal planning tool saves me so much time. It reduces time spent thinking about meals, planning meals, grocery shopping, and throwing together a quick dinner meal.
How to Use the Meal Planning Tool
As you decide what to prepare for a meal, aim for:
One-half a plate of vegetables (incorporate more non-starchy vegetables like leafy greens, tomatoes, green beans, broccoli, onions, and peppers with your starchy vegetables like corn and potatoes)
One-quarter of a plate of lean protein like tuna, salmon, chicken, turkey, nuts, and dairy products
One-quarter of a plate of fiber-rich carbohydrates like whole grains, beans, and fruit
Two tablespoons of healthy fats coming from olive oil, avocados or from dairy, nuts, and salmon
You can use a variety of foods to fill up each section of the plate.
For example, you could have chicken tortilla soup (with beans, chicken, corn, tomatoes, and peppers) with avocado, sour cream, and cheese as toppings. Add a side of fruit such as sliced peaches or mangoes.
The idea is to get the balance right and have a simple visual to help you. There are no rules for what counts as dinner food. Charcuterie-style works, breakfast-for-dinner works, and foods not customarily paired together works.
I often serve fruit as a side/dessert for dinner as it boosts the anti-inflammatory intake for the meal and provides a sweet option, and my kids never turn down fruit.
Why Use the Meal Planning Tool
When you balance your plate like the plate method, it ensures you get filling protein, healthy fat, and lots of fiber. These important pieces help you stay full longer, reduce cravings, and ensure you eat some anti-inflammatory foods.
The plate method also provides a game plan for meal planning. I mentally check off each section as I plan and cook dinner. If I am short on a section, I check my fridge or pantry for something to add, even if it "doesn't fit."
Last night, I made homemade chicken noodle soup with onions and carrots in a chicken bone broth. I was low on carrots, and my celery was accidentally frozen in a too-cold fridge.
So, I improvised, sauteed green beans, and added leftover fruit salad to the meal.
Four out of five people ate the green beans, three out of five ate the soup, one ate just the chicken from the soup, and we all ate the fruit salad.
Providing a variety of foods from each section helps new or particular eaters be exposed to new foods (even if they don't eat them) and allows you to serve some familiar foods.
Here are some anti-inflammatory recipes and meals approved and created by dietitians.
Registered Dietitian Approved Anti-Inflammatory Dinner Recipes
I've included some whole meal recipes and some easy anti-inflammatory rich sides.
Spaghetti can be anti-inflammatory packed! From the list above, spaghetti includes onions, tomatoes, tomato paste, garlic, mushrooms, chickpeas, a green vegetable, oregano, thyme, rosemary, and black pepper.
Brown one pound of lean grass-fed, pasture-raised ground beef with a small chopped white or yellow onion.
Add two 14.5 oz cans of no-salt-added diced tomatoes (you can also use fresh or frozen tomatoes).
Add four tablespoons of tomato paste, one to two cups of sauteed or canned mushrooms, minced or garlic powder to taste, and spaghetti seasoning.
I serve over chickpea pasta (garbanzo beans) instead of regular spaghetti noodles. You can substitute whole-grain noodles as well. My favorite is Banza pasta. This recipe serves four to six.
I add more sides if I am feeding more people. You could add a salad, sauteed green beans, or steamed broccoli as a side, and maybe fruit.
Easy Moroccan Chicken Thighs Recipe from One Pot Wellness
One-pot meals always move to the top of my list! Less cleanup and less time in the kitchen. Wan Na Chun, MPH, RD, CPT of One Pot Wellness says that "this dish tastes even better the next day as flavors meld together".
This tender and flavorful chicken thigh recipe includes anti-inflammatory ingredients (turmeric, pepper, ginger, garlic, figs, onions, carrots, olives, and chicken).
Serve with quinoa, couscous, rice, or crust whole-grain bread. Add even more anti-inflammatory foods with a side salad or steamed veggies.
This one-pot meal fits the plate method for balancing protein, vegetables, and fiber-rich carbohydrates (quinoa, couscous, or whole-grain bread).
Quinoa with Spinach and Tomatoes from Christina Iaboni
This simple, one-pot meal is perfect for busy weeknights. Rich in anti-inflammatory foods like tomato sauce, spinach, chickpeas, onions, garlic, oregano, pepper and olive oil.
Quinoa and chickpeas are high in protein and fiber, filling you with plant protein. Consider this meal as a meatless option for a balanced mixed dish that follows the plate method.
Fun tip: To help absorb more iron, pair plant-based proteins (chickpeas) with vitamin C (tomatoes). The ingredients in this recipe help you absorb more nutrients.
Look at the plate method. Look at your fridge, freezer, and pantry. Fill in the sections with whatever you have.
I have done this many times in the past ten months, with being diagnosed with kidney cancer, recovering, and then endometriosis surgery and recovering again.
Give yourself grace and follow the plate method. It's more than okay if dinner is sautéed chicken tenderloins, a bagged salad mix, strawberries, and some purchased whole-grain bread toasted.
Smoothies and peanut butter and jelly sandwiches have also appeared!

These five-ingredient salmon cakes are a quick and easy way to boost your omega-3 fat intake (healthy fats) and meet the recommended two servings a week of fatty fish.
Christina Iaboni, MHSc, RD shares a tip to purchase wild canned salmon to make this an even quicker meal. Canned salmon is already cooked, so you remove a step.
These salmon cakes fulfill the protein portion of your plate and can be paired with salad or sauteed veggies and fruit to round out the meal.
Kale Quinoa Salad with Citrus Ginger Dressing from Sound Bites Nutrition
This quick kale salad includes many anti-inflammatory ingredients (kale, quinoa, apple, walnuts, and ginger).
Kale is a stronger flavor and is often avoided. The dressing and apples sweeten and add delicious flavors that even those wary of kale will enjoy.
Owner and dietitian Lisa Andrews, MEd, RD, LD shares how kale is full of phytochemicals (anti-inflammatory compounds) and is worth including in meals. Consider this salad, and kale hides well in soups, too.
Easy Cannellini Beans with Rosemary and Garlic from One Pot Wellness
Beans are nutritious powerhouses. The recipe creator, Wan Na Chun, and myself are registered dietitian nutritionists who strongly recommend incorporating beans as much as possible into your diet.
Beans are a great source of plant-based protein, fiber, and minerals like folate, iron, magnesium, and potassium.
You can pull pantry staples like garlic, chicken broth, rosemary, and cannellini beans to make this dish as a side or on toast. Pair with fish or chicken with roasted vegetables to complete the plate method.
Takeaways
Try using the plate method for a simple meal planning tool to incorporate more anti-inflammatory ingredients into your weekly diet.
Look through the seven anti-inflammatory registered dietitian recipes to help you follow the plate method and serve anti-inflammatory dinners to your family.
Read more about how anti-inflammatory diets can help reduce inflammation and benefit people of all ages and health conditions.
Or print my free, detailed anti-inflammatory foods list (PDF) to make the anti-inflammatory diet work for you and get inspired by more foods to include in your meals.
Let's get UNstuck and stay UNstuck!